Dinosaur Jr. – Tickets – Westville Music Bowl – New Haven, CT – May 23rd, 2021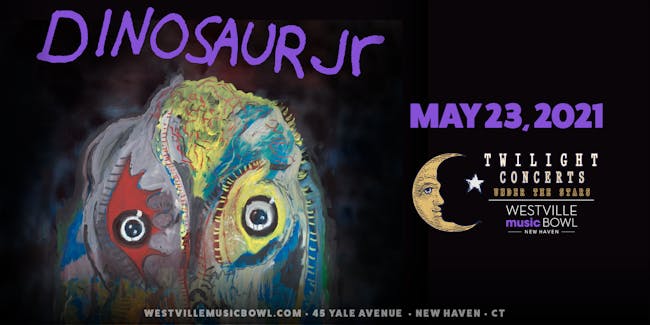 Twilight Concerts Under The Stars
Dinosaur Jr.
Westville Music Bowl
New Haven
,
CT
This is a socially distanced LIVE event with a Reserved Seat Pod setup (sets of 2 & 4 people max allowed in pod).
CLICK HERE for a full list of guidelines, protocols, and FAQ.
Social distancing guidelines will be strictly enforced for the safety of patrons, staff and artists.
Event is Rain or shine, no outside food or beverage.
**Floor seating pods are sold exclusively for 4 fans max with the seating arranged as 2 seats in front + 2 seats directly behind them**
DINOSAUR JR.
Here is Sweep It Into Space, the fifth new studio album cut by Dinosaur Jr.. during the 13th year of their rebirth. Originally scheduled for issue in mid 2020, this record's temporal trajectory was thwarted by the coming of the Plague. But it would take more than a mere Plague to tamp down the exquisite fury of this trio when they are fully dialed-in. And Sweep It Into Space is a masterpiece of zoned dialing.

In the decades since the release of Dinosaur Jr.'s original triptych of foundational albums, it has become clear that their sound -- once hailed as a sort of almost-tamed noise -- is/was/always-has-been fully functioning pop music of a sort. The subsequent generations of bands who grew up breathing Dino's fumes managed to tinker around with the edges of their original post-hardcore song-forms enough for listeners to realize there had always been melodies at the center of everything they did. What Dinosaur Jr.. produces is nothing but a beautiful new version of the rock continuum -- riff, power, beat and longing, created with an eye on the infinite future.

Recorded, as usual, at Amherst's Biquiteen, the sessions for Sweep It Into Space began in the late Autumn of 2019, following a West Coast/South East tour. The only extra musician used this time with Kurt Vile.

J Mascis says, "Kurt played little lead things, like 12 string one at the beginning of 'I Ran Away.' Then I ended up just mimicking a few things he'd done. I was listening to a lot of Thin Lizzy, so I was trying to get some of that dueling twin lead sound. (laughs)"

"But the recording session was pretty well finished by the time things really hit the fan. So I just ended up doing more things by myself. Like the mini digital mellotron on 'Take It Back.' Originally I'd thought I'd have Ken Mauri (who has done keyboard work for Dino in the past) come in and play piano. But when the Lock Down happened in March, that meant I was on my own. But it was cool."

Indeed, Sweep It Into Space is a very cool album. As is typical, Lou Barlow writes and sings two of the album's dozen tunes and Murph's pure-Flinstonian drumming drives the record like a go cart from Hell. Lou's songs here are as elegant as always. "Garden" is a mid-paced ballad with genteel guitar filigree giving it a '60 Brit feel in spots. And the album's closer, "You Wonder," is a strangely excellent answer to the question -- "How would Blue Oyster Cult handle a country tune?"

J's tracks flow and flower in the different directions he often follows. Some are guitar howlers, like "I Met the Stones," with a string sound midway between Hendrix and Asheton. Some are power ballads, like "And Me," its lyrics atomized in a manner invented by Mascis, then famously borrowed by Kurt Cobain. And there are anomalies, like "Take It Back," which starts with a blue-beat rhythm putting one in mind of Keith Richards' Jamaican explorations (at least for a little bit.)

But there are very few moments where you wouldn't know you were hearing Dinosaur Jr.. in blindfolded needle drop. They have a signature sound as sure as the Stooges or Sonic Youth or Discharge ever did. They continue to expand their personal universe with Sweep It Into Space, without ever losing their central core.

So if you ever do find yourself swept into space (hey, who knows?), I just hope these tunes are on your playlist.

--Byron Coley

Links: Official Website | Facebook | Instagram | Twitter | YouTube

Venue Information:
Westville Music Bowl
45 Yale Avenue

New Haven, CT, 06515