Nothing – Tickets – Space Ballroom. – Hamden, CT – October 14th, 2021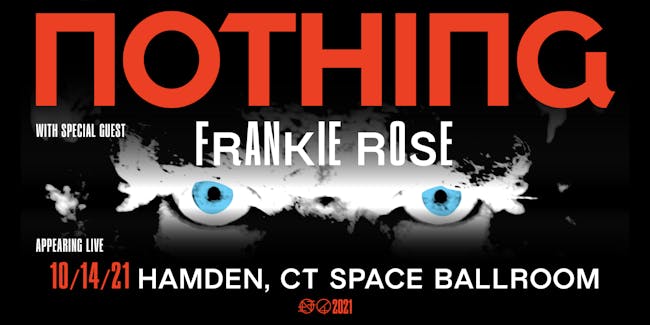 Premier Concerts and Manic Presents:
Nothing
Frankie Rose
Space Ballroom.
Hamden
,
CT
General Admission Standing Room Only
NOTHING
Last year, astronomers revealed the first-ever photograph of a black hole. The image resembled an eye with an ominous dark center surrounded by a lopsided ring of red. The strength of a black hole is so overpowering that nothing—not even light—can escape it.
When the black hole photograph was published on the front page of The New York Times, NOTHING founder Domenic Palermo bought a copy at a newsstand, framed it, and hung it above the desk where he writes. The image of a black hole might be menacing to some, but for Palermo, it fits perfectly in line with the themes he draws from. A swirling void ready to destroy anything in its path seemed like a perfect metaphor for humanity itself. One day, sitting at his desk, Palermo had an idea for a new album, and he wrote down a single line: "Existence hurts existence."
The Great Dismal, NOTHING's new full-length album explores existentialist themes of isolation, extinction, and human behavior in the face of 2020's vast wasteland. Closing in on the band's ten-year mark, Palermo finds himself stringing together songs of misanthropic tales of Philadelphia with a refined and refreshed take on NOTHING's classic sound. "The Great Dismal refers to a swamp, a brilliant natural trap where survival is custom fit to its inhabitants," Palermo states. "The nature of its beautiful, but taxing environment and harsh conditions can't ever really be shaken or forgotten too easily."
Links: Official Website | Facebook | Twitter | Instagram | Spotify
FRANKIE ROSE
After spending years as a major presence in Brooklyn's thriving music scene, Frankie Rose relocated to her familial home of Los Angeles for 18 months. Frankie's intent was to establish yet another moment in her storied indie rock métier. Gradually, she found herself short on sleep, funds, and optimism. "I moved to L.A., drama ensued and I ended up on a catering truck. I was like, how can this be my life after being a touring musician and living off of music. I had really lost my way and I thought I was totally done."

Through sleepless nights of listening to broadcaster Art Bell's paranormal-themed archives, Frankie's thoughts had turned to "who am I, I'm not cut out for this business, it's not for me." She continues, "I was literally in my room in L.A., not knowing how I was going to get out. But out of it all, I just decided to keep making music, because it is what I love and what I do – regardless of the outcome."

Towards the end of her time spent in Los Angeles, Frankie reached out to Jorge Elbrecht (Tamaryn, Gang Gang Dance, Violens) and began sketching what became the basic outline of what felt like a new album. Then, rather fortuitously, Frankie ended up back in Brooklyn with the realization that "in the end, I'm on my own. I have to do these things on my own."

Links: Official Website | Facebook | Twitter | Instagram | Spotify

Venue Information:
Space Ballroom.
295 Treadwell Street

Hamden, CT, 06514